SONY HT-S20R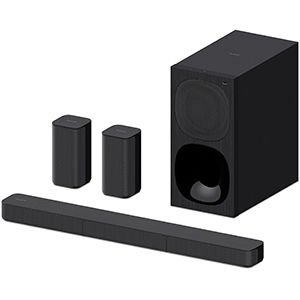 5.1-ch Home Cinema System with Bluetooth technology
HT-S20R
Experience real 5.1 channels of real surround sound. Wired rear speaker, a 3-ch soundbar and wired external subwoofer combine to produce powerful cinematic sound while Bluetooth and USB connectivity make it easy to play your favorite music
Cinematic Sound Experiance with 5.1ch real Surround Sound
Stream music wirelessly via bluetooth Connection
Play music via USB plug & play
Powerful Bass with 400w Power Output
Simple setup with HDMI ARC, optical and analogue inputs
5.1ch Real Surround Sound

Give movies the soundtrack they deserve with 5.1 channels of real surround sound. Rear speakers and an external subwoofer work with a 3-ch soundbar to deliver dynamic, immersive, cinematic sound.

Dolby Digital

Enjoy dramatic, high-quality surround sound from 5.1 separate audio channels with Dolby Digital

It's not all about movies and TV—you can easily play your favourite music through your soundbar too. use Bluetooth connectivity to stream music wirelessly from your smartphone.

USB Plug & Play

Use the USB port to plug and play music from a memory stick with ease.
One-cable connection via HDMI ARC

HDMI ARC lets you connect to compatible TVs with a single cable, reducing cable clutter. TV not compatible with HDMI ARC? Enjoy high quality sound for movies and more when you connect to the optical input. If HDMI ARC and the optical input aren't an option, simply connect your TV using the analogue input.

Choose the perfect setting

A button for every sound—choose the mode that's right for whatever you're watching or listening to, including Auto, Standard, Cinema and Music. You can also select Night and Voice modes and use subwoofer control to fine-tune your viewing experience.

400w Power Output

A total power output of 400 W gives every movie the thrilling soundscape it deserves.

Set up in seconds

The HT-S20R is almost ready to go straight out of the box. Simply plug it in, wire up your rear speakers and external subwoofer, and enjoy 5.1 channels of real surround sound.